Online literature is becoming increasingly influential in many countries as an ever more popular form of entertainment. Reading and writing online novels has quickly become an attractive pastime for the younger generation. As the average age of both readers and writers gets younger – Generation Z is emerging as the dominant creative force in this growing sector.
According to the latest report (2021) on overseas online writers released by China Literature, the number of online writers on Webnovel, the English arm of China's largest web novel company, China Literature, has more than tripled. The "post-00s" and "post-95s" among the overseas writers on the platform account for more than 80%.
China Literature presented some interesting data from several different aspects in the report (2021). In recent years, online literature is booming and Webnovel became one of the fastest-rising pay-to-read online literature platforms in the world. The number of Webnovel writers has significantly increased. Their geographies, professional backgrounds, and majors have demonstrated a more diverse trend.
The characteristics of Webnovel writers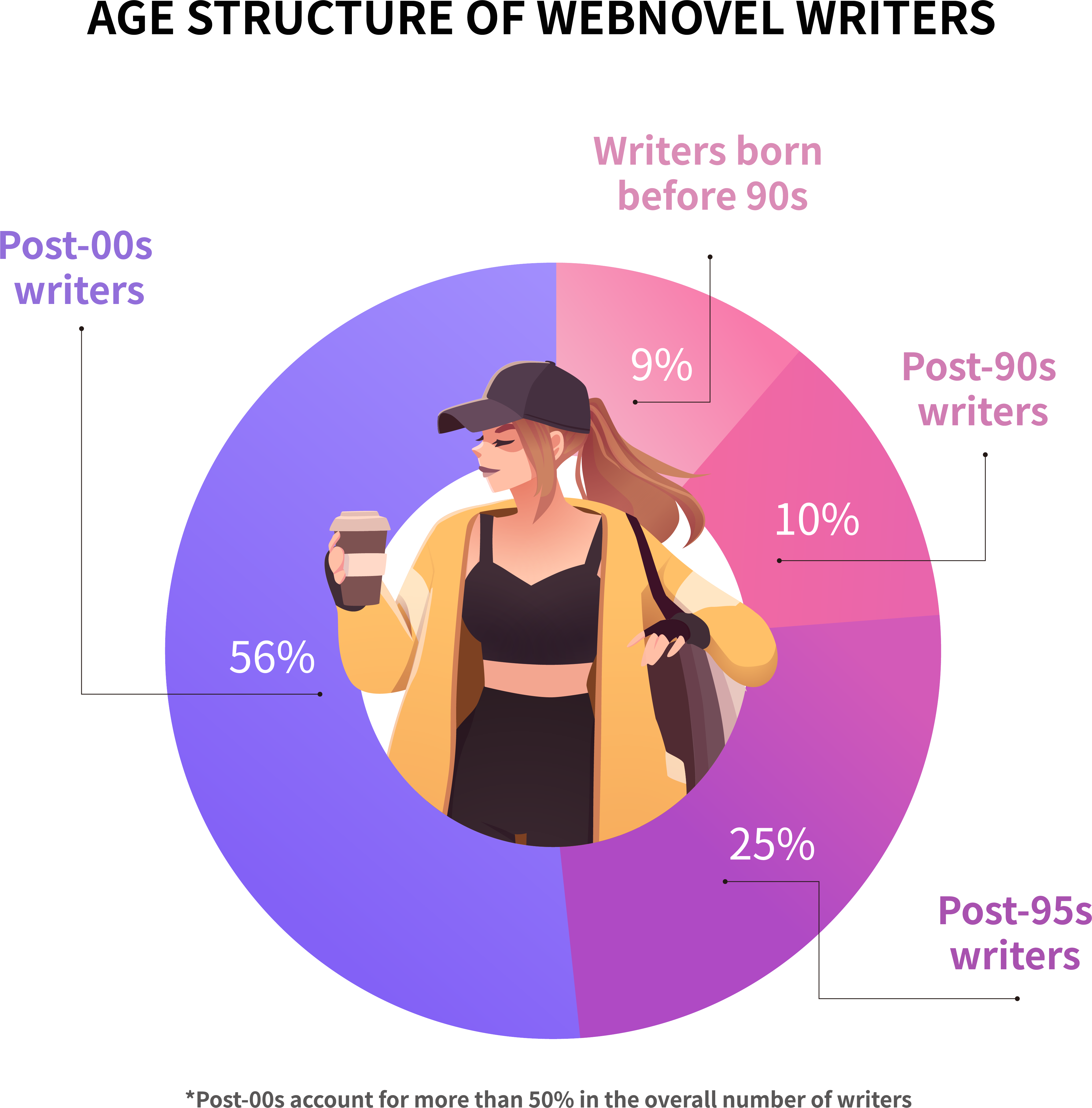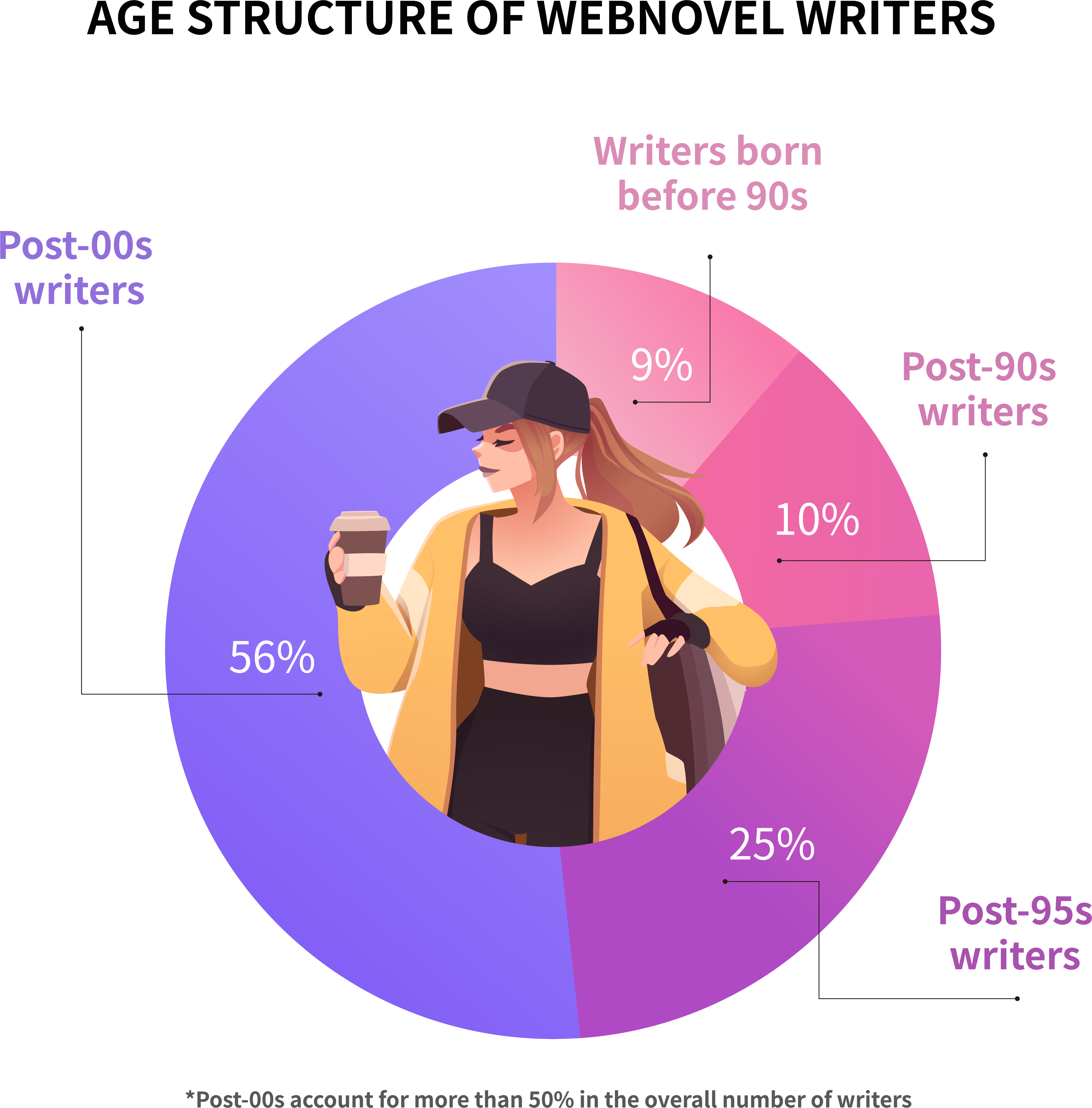 The report stated that Gen Z has contributed the most to online content creation. The "post-00s" was the largest group of online writers on Webnovel, accounting for 56%, followed by the post-1995 generation with 25%. It also revealed that more than 60% of them are from Southeast Asia and North America.
Writers with non-writing backgrounds are becoming a driving force in the creation of web content. An interesting finding was that more and more Webnovel writers with majors in computer science, physics, applied mathematics, and economics are creating for the platform, as opposed to the past when most writers have academic backgrounds in literature, history, and other majors in liberal arts. They now include teachers, computer engineers, stay-at-home mothers, bank employees, and other professionals without any writing backgrounds.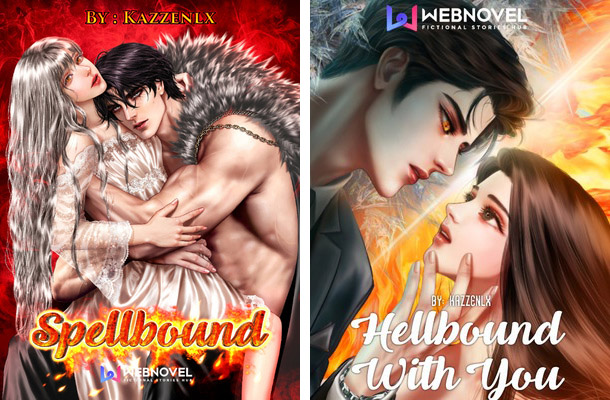 Kazzenl X, a Filipino writer who used to be a kindergarten teacher, started writing on Webnovel in 2018. Hellbound With You, his first work, was well received by readers and he quickly became one of the leading writers on the platform. In the Webnovel Spirity Awards 2021, his work "SPELLBOUND" stood out among nearly 80,000 novels and won the gold award.
Online literature is being accepted by more overseas readers
Whether translated Chinese online novels or original works from overseas creators, online literature is increasingly accepted and loved by global readers.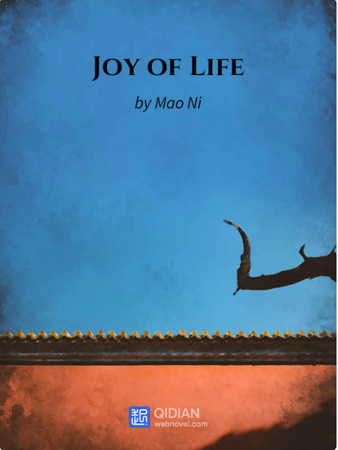 Nowadays, most of the high-quality translated web novels in the overseas market come from China Literature Group. Webnovel has uploaded over 900 translated Chinese literary works. Several excellent translated Chinese novels represented by "The Joy of Life" are widely popular in Japan, South Korea, Southeast Asia, Europe and the United States.
The popularity of Chinese web novels abroad makes more audiences look at Chinese literature and China objectively. The ancient architecture, festivals, costumes, regional customs and other traditional Chinese culture portrayed in the works are also distributed around the world through these works.
As of June 2021, the Webnovel platform has 190,000 overseas creators and more than 280,000 overseas original works.
A similar trend can be seen in the world of video content. Streaming giant Netflix recently pledged to invest nearly $500m dollars on Korean content in 2021. Following the success of films such as Kingdom, and series such as Squid Games, "Audiences around the world are falling in love with Korean stories, artists and culture," said Minyoung Kim, Netflix's VP of content for Korea, Southeast Asia, Australia and New Zealand.
The future prospect of online literature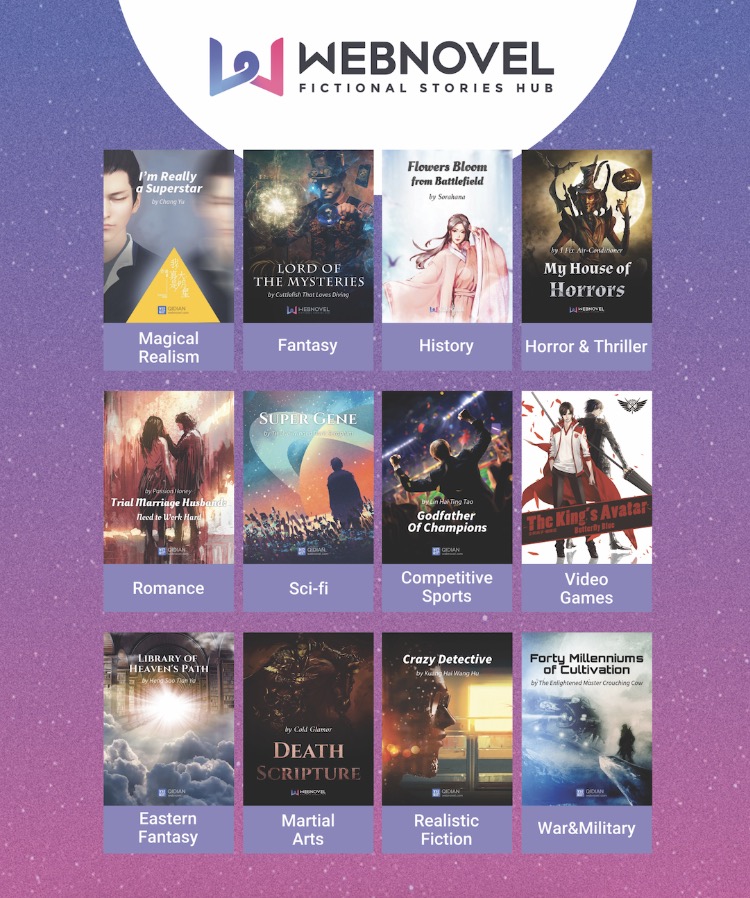 In China Literature's report (2021), the fantasy, gaming and romance genres are the types that the overseas readers love the most. Most of the content relevant to these themes is easy to understand for the readers and has the potential to become an instant hit on a global scale.
Webnovel has a deep understanding of the content that readers love, and this valuable data has fast become the company's "cash cow". To best leverage this, Webnovel employs a similar model to that of China Literature Group, closely supporting and motivating overseas writers to attract new creators. In a short period of time, the number of overseas writers increased dramatically and lots of readers on Webnovel became full-time writers. The platform even attracted many traditional authors from established Publishing Houses to participate.
With cultural exchange getting more convenient as people from all over the world are better connected with each other due to the Internet, great works will more quickly pop up from all over the world.
The pandemic has changed many aspects of our lives and encouraged people to explore new opportunities. Alongside a changing economy and better accessibility, Gen Z has embraced platforms that can offer them access to an audience to showcase their creativity. They are independent "digital natives" who are constantly socialising, learning, and entertaining in the mobile-first digital world. Their online and offline lives are almost inseparable. With the popularity of Webnovel, Gen Z is quickly unlocking a future wealth creation in an era of digital literature.