The application of artificial intelligence (AI) is providing substantial improvements in various areas of healthcare from diagnostics to treatment. AI applications for medical services can support healthcare personnel with a range of tasks including administrative workflow, clinical documentation and patient outreach as well as specialized support such as image analysis, medical device automation, and patient monitoring. There are numerous companies acting as the frontrunners in the field of AI medical services, including IBM Watson, Google's Deep Mind, and Apple. According to the IDC, the market for AI applications is expected to reach $127 billion by 2025, with the healthcare industry accounting for one-fifth of the market.
The COVID-19 pandemic sparked a boom in telemedicine services. The demand for remote diagnosis and treatment continues to increase as many countries are experiencing a shortage of healthcare practitioners as well as difficulties in delivering face-to-face services.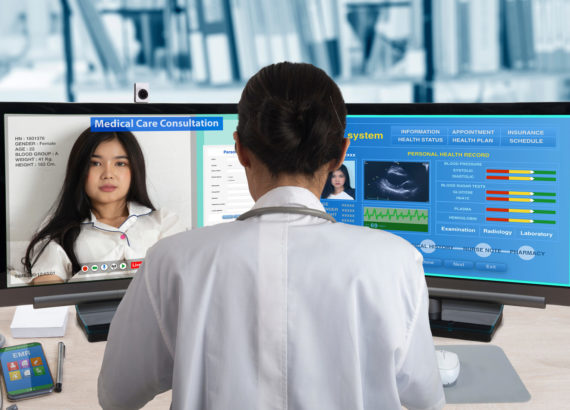 Since the outbreak in 2020, more than 1,100 internet hospitals have been built in China. WeDoctor is China's biggest telemedicine network host with over 270,000 doctors and 222 million registered patients. The platform owns 27 internet hospitals, provides online appointment-booking services to 7,800 hospitals across China, and handles 97% of Wuhan's COVID-19-related consultations. Other digital healthcare platforms, such as Alibaba Health, JD Health, and Ping An Good Doctor, have also played their roles in accelerating the development of a telemedicine ecosystem during the pandemic.
In the UK, over 100,000 people have "GP at Hand" through their National Health Insurance as a platform for medical services. This triage app was developed by Babylon, a healthcare provider that has built a suite of AI tools provides, provides telemedicine services and AI-powered health checks. In addition, created by DeepMind, the London-based AI company that is owned by Google's parent Alphabet, an AI system called AlphaFold 2 has been used to map a protein associated with the coronavirus that causes COVID-19.
China has a massive data advantage when it comes to medical AI," said Eric Topol, a U.S. doctor and author of Deep Medicine: How Artificial intelligence Can Make Healthcare Human Again. In China, AI is widely used to support the analysis of medical scans and images.
In April 2022, an engineering team at the University of Hong Kong (HKU) has developed a new AI algorithms approach "REFERS" (Reviewing Free-text Reports for Supervision), which can cut the human cost down by 90% by enabling the automatic acquisition of supervision signals from hundreds of thousands of radiology reports at the same time.
AI is widely used to support the analysis of medical scans and images, improving the healthcare staff's efficiency and accuracy of diagnoses. For example, Tencent AI Medical Innovation System's AI-powered CT equipment was used in Hubei during the COVID-19 outbreaks in 2020. When a doctor needed to spend 5-15 minutes reading and analyzing a chest CT scan containing 300 images, this AI-powered diagnosis solution could complete AI pattern recognition in two seconds and generate diagnosis references within one minute. Later, Airdoc, a Beijing-based medical AI group, became the first company to gain regulatory approval in January 2022 for its retina-scanning software to be deployed in hospitals in China.
These adoptions of medical AI are driven by needs as there are not enough radiologists and physicians to match up with the population, according to Topol. AI-powered medical image diagnosis has the potential to support medical specialists in reducing their workload and improving the diagnosis efficiency and accuracy, said Professor Yizhou Yu, the leader of the team from HKU's Department of Computer Science.
"China has a massive data advantage when it comes to medical AI," says Eric Topol, a U.S. doctor and author of Deep Medicine: How Artificial intelligence Can Make Healthcare Human Again. The AI-powered services provided by companies such as Tencent and Airdoc have relied heavily on their access to large amounts of diverse medical data from patients in China. This trove of data allows researchers to train algorithms in clinical settings.
However, there are continuing user concerns over data protection in China. Overall, the legal protections for Chinese citizens' personal information, which came into effect in September 2021, are similar to that of Europe's General Data Protection Regulation laws. However, the laws still consider personal information as a strategic resource that belongs to the Chinese government before its citizens, according to Rebecca Arcesati, a digital policy analyst at the Mercator Institute for China Studies in Berlin. "What is important to stress, in my view, is that the law is unlikely to limit the widespread forced collection of biometric data and genetic information from the population, especially from vulnerable minorities," she said.
China's AI community is working on securing data privacy in the best possible way, according to Jeffrey Ding, a postdoctoral researcher at Stanford University's Centre for International Security and Cooperation. "Federated learning is becoming more popular in China as a privacy tool," said Ding, concerning the practice of spreading data sets across multiple servers to bolster security. Topol pointed out that people can never guarantee privacy, but AI is helping to resolve this issue.