The Omicron outbreak in Shanghai and continued lockdown in much of the city has imposed significant difficulties on the daily lives of its 26 million residents. One silver lining of the publicized situation, however, is how desperate local residents are turning to homegrown self-help tools provided by Chinese internet and technology firms to secure supplies of food, medical help, and other necessities.
In early March, citizens in Shanghai started to flock to internet services such as online questionnaires, shopping mini-programs, and document-sharing services to connect people in need with food and medical supplies in the initial days of the lockdown. These services are mostly backed by domestic tech mega-platforms, such as Tencent Docs, WeChat, and Sina Weibo, Pinduoduo and Meituan. However, as the district-by-district lockdowns became city-wide and the number of homebound residents soared, the demand for for independent self-help digital tools specifically designed for emergencies also spiked.
Developed by Shanghai residents Stanley Liu and Paul Qi during the city-wide lockdown, the website Daohouer.com is inspired by the idea of a decentralized autonomous organization, or DAO. Since its launch on 6 April, the website has been used by many thousands of Shanghainese to secure food, medicine, physical and mental support, and even aid for pets to potential solutions. Many of those using the platforms are young, internet-savvy volunteers helping older and disadvantaged neighbours with their daily needs in massive collaborative operations. The site's friendly and accessible interface design made it more preferable to elderly residents than complicated social media platforms.
On the website, citizens can seek help from others by publishing information by category, location, severity and the nature of the incident, while people who are willing to offer help can get in touch via contact details provided on the platform. Up to now, there are more than 6,800 enquires from Shanghai residents on Daohouer.com, of which nearly 65% have been solved and 34% are under relevant assistance.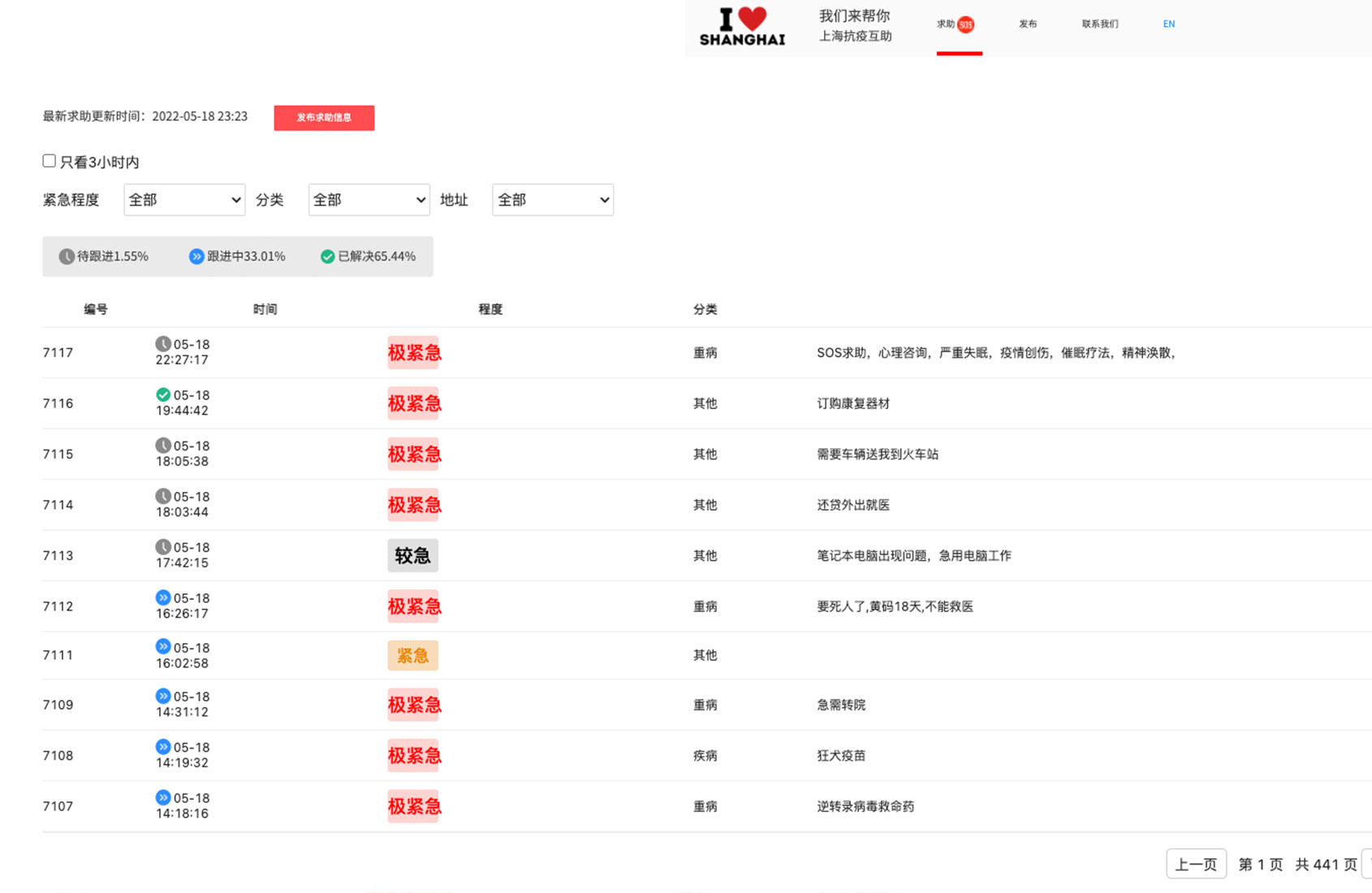 Many other forms of self-help digital websites and tools have emerged in the last two months to handle various household emergencies and supply bottlenecks. For example, a website powered by Vigeotec allows people to check the COVID-19-related statistics, lockdown status and estimated time-till-unlock of each district in Shanghai. While these self-developed platforms can largely improve the efficiency of delivering support to emergencies in specific areas, further communication between citizens regarding the detailed situation is still carried out largely through WeChat Groups, phone calls, and text messages, according to Stanley Liu.
Meanwhile, citizens and local communities in Shanghai have also been busy arranging home deliveries of food and necessities using online grocery giants such as DingDong, Alibaba's Hema, and Meituan's Maicai. Since the lockdown began, more than 60% of the daily food supply relies on online grocery apps, according to estimates by residents.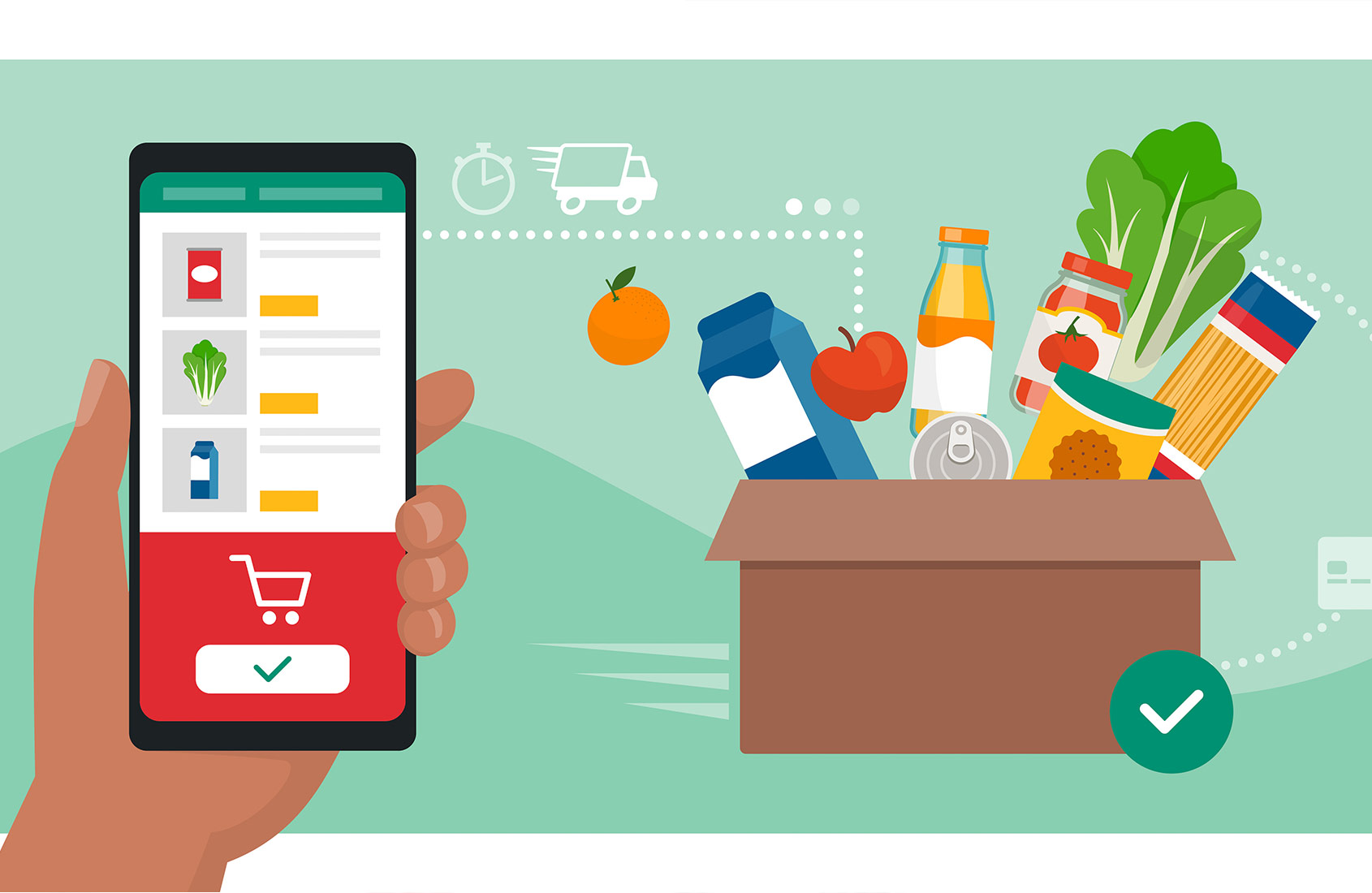 Additionally, to ease the traffic pressure on huge delivery providers such as DingDong and Meituan during the lockdown, Weimob, a Hong Kong-listed tech company, has created a mini-store on WeChat to help grocery wholesalers and retailers sell directly to residents citywide. With advanced fiscal and technological capabilities, publicly traded tech firms like Weimob can make a difference in supporting citizens, controlling the spread of the virus, and fighting the pandemic. Elevated awareness on corporate social responsibility and ESG issues have also prompted Big Tech firms to donate hundreds of millions worth in goods and services to COVID-relief programs across the country.
To many grocery shopping services developed by Big Tech firms, the relief campaign in Shanghai also provided a much-needed opportunity for redemption after their fierce price wars in recent years that pushed many traditional retail chains and neighbourhood mom-and-pop stores out of businesses, drawing severe government anti-trust scrutiny and public backlash.
According to a McKinsey report in 2021, online grocery shopping was one of the most contested consumer-facing markets in China. Similarly, some analysts have questioned if these food-to-your-door services will fade out, leaving room for a comeback of offline food shopping and restaurants again after the lockdowns end.