The newest sensation to emerge from China's white-hot livestream e-commerce scene might just be one of a kind: Chinese ancient poetry, Vincent Van Gogh, and spicy crayfish – all in one take. Without loud, rhythmic music or hosts frantically barking out low prices and urging the audience to buy, the Oriental Selection channel on Douyin brings a bit of tranquility and culture: the influencers quote Immanuel Kant and Moon and Six Pence while they try to sell steaks, seafood, and books. They teach English vocabulary when selling ice-cream and sugar-coated hawthorn fruit.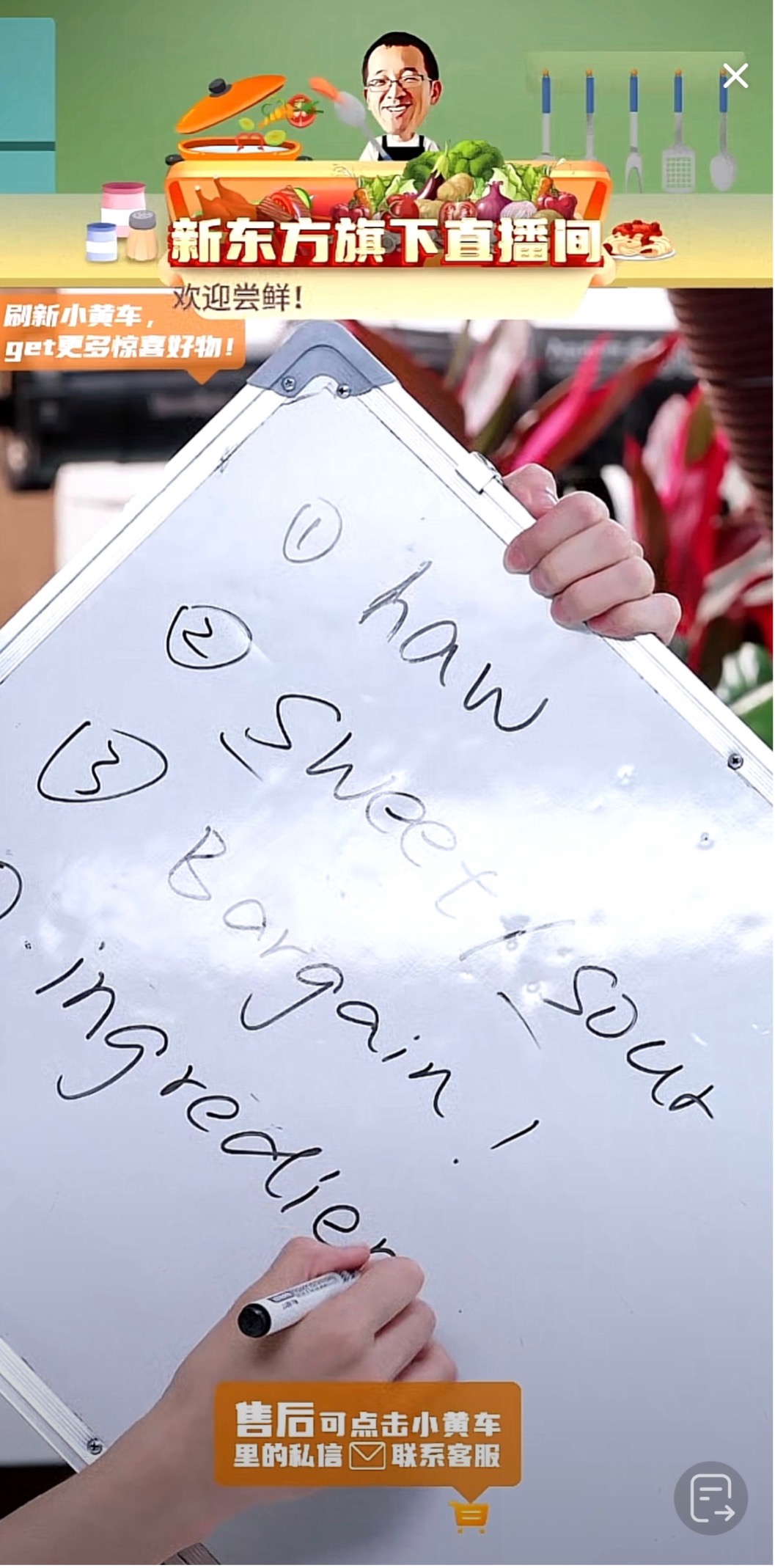 (A teacher/influencer is writing English vocabulary on the board while livestream–selling hawthorn fruits. Screenshot from Douyin)
By Zhixin Wan
Livestream selling is the most recent business attempt by New Oriental, China's once undisputed edtech leader, who, just five months ago, laid off 60,000 employees and saw its operating income plunge 80%, according to a blogpost by its founder Yu Minhong, also known as Michael Yu. Founded in 1993 by Yu, a university English teacher, the company took a hard hit from China's crackdown on for-profit education, known as the "double reduction policy", and the Covid–19 pandemic.
Cao Menglin, 32, a New Oriental English teacher based in Nanchang, Jiangxi province, recounts the dismal impact the education crackdown has had on her colleagues. "Some people saw no hope [in this industry]. So, they left to seek employment at public or private schools," she said.
While some critics say the company's latest excursion into livestream e-commerce was just clutching at straws, the strategy has become runaway success in recent weeks: Oriental Selection, the company's channel on Douyin, has become one of the top three sellers on the platform, gaining almost 5 million followers. On June 14, New Oriental's stock (EDU) price surged to $21.27, reaching a nearly six–month high.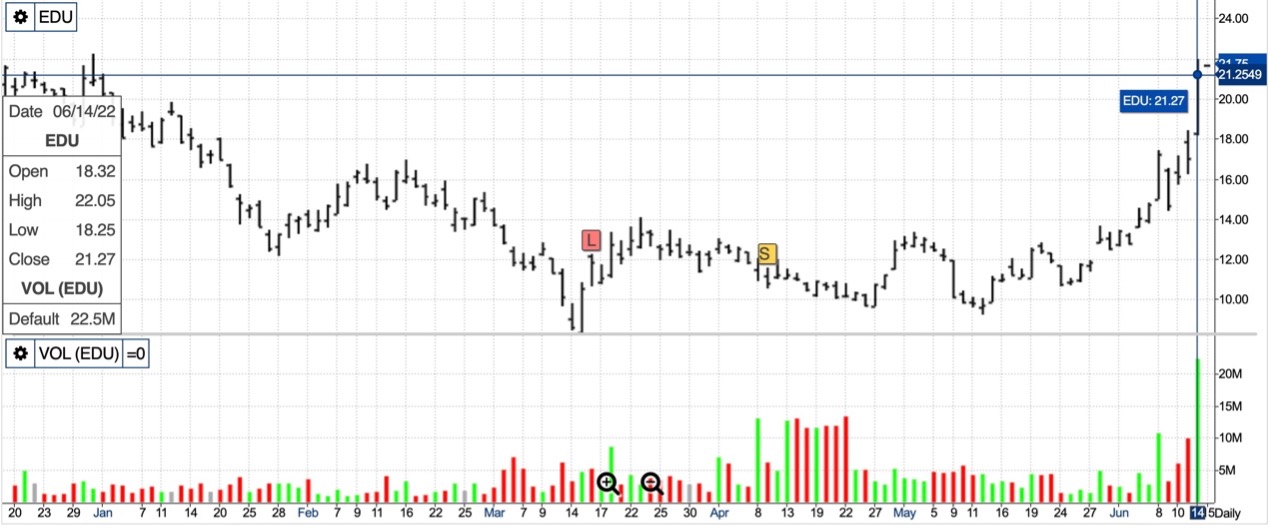 (On June 14, 2022, EDU closed at $21.27 on NYSE, the highest in the past five months / Screenshot from NYSE)
Dong Yuhui, one of the most popular influencer/shopping hosts at Oriental Selection, has been interviewed and featured by several major Chinese media outlets. When asked about transitioning from a teacher to an influencer, Dong said, "I was once quite downcast when I stopped being a teacher." He has reveled in his new success as an influencer/shopping host, taking pride in the fact that he could now help farmers in remote rural areas sell their produce, making money to help with children's education and elderly care in the countryside.
It remains unknown if Dong's temporary leave is due to China's crackdown on for-profit private education, but one thing is almost certain: If the success proves sustainable, it might just be a new way out for New Oriental.
According to data from several online job-hunting platforms, New Oriental has embarked on a hiring spree in a wide range of fields, from food influencers, photographers, to video directors, offering competitive packages. A bilingual influencer for its livestreaming channel, could make upwards of 60,000 yuan ($8928) per month.
"Blingual teaching plus live selling – Yu Minhong may have found the key to a successful business transformation," Zong Cheng, a writer and social critic, wrote in a Weibo post. Zong argued that the traditional live selling that relied on social media influencers and discount prices may soon be replaced by the new form combining fun teaching and live selling.
It connects the trending livestream selling with the suppressed consumer demand for education and knowledge, Zong wrote, noting that parents need a new outlet for their spending power after the crackdown on private education industry.
It may be good news for the job market as well. According to Zong, online education and private tutoring agencies used to be responsible for hiring hundreds of thousands of trainee teachers and young people returning to China with overseas education degrees every year, whereas most of them are unemployed nowadays because of the "double reduction policy" and declining demand at higher education institutions. Teaching while livestream-selling might be just a fun new venue for young people to find their passion and gainful employment.